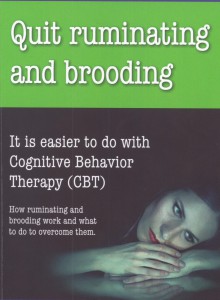 It is not common among people who call themselves behavioral analysts or behavioral therapists to attempt a behavioral analysis of cognitive behaviors. One likely reason for this is that thoughts (cognitions) are internal and cannot be measured or observed in the same way as external, motor behaviors. Demands for visibly measurable results of the treatment cannot, in these cases, be met. When working with behavioral analysis, this demand is close to holy.
I do not feel that it is reason enough to not attempt to understand and find ways to treat a thought-behavior such as rumination. Whatever the case, many – maybe even most of us – suffer from ruminations and broodings. Both of these lead to anxiety, concerns and sleepless nights. Rumination and brooding are significant components of compulsive disorders and social anxiety disorders, and can in these cases not be ignored. In these cases, there must be some way to approach them.
Another reason to dedicate oneself to the problem of rumination is that it is a willfully controllable behavior, even if the ruminator does not always experience it in that way. Rumination is a learned behavior such as any other motor behavior. Treatments that are based on learning, such as CBT, should for this reason be interested in rumination. Difficulties of "touching the behavior" should therefore not lead to not handling it. One way to make rumination more substantial is by looking at it as "self-talk".
Considering how much suffering it brings, and how much private time that is spent doing it, I see it as an urgent matter to teach a way of tackling it based on behavioristic premises. This book describes how behavior therapy can be used to treat a cognitive behavior.
This book is an attempt to provide an approach to the behaviors of ruminating and brooding. It can be applied whether the ruminating is of an everyday character or if it is part of a more serious condition. It is my ambition that the reader will understand, not only how to face his or her ruminating, but also why he or she should act in the manner described.
This is an exerpt from the book Quit Ruminating and Brooding by Olle Wadstrom. Comments and discussions are encouraged.