Train your brain to be less inclined to produce discomforting and intrusive thoughts
Olle Wadstrom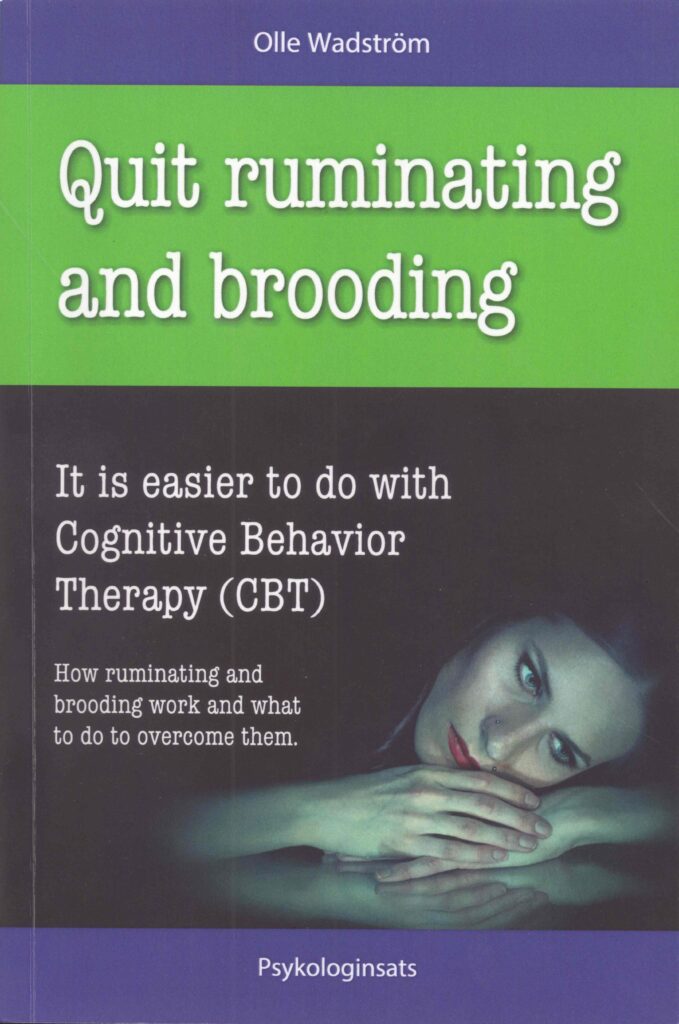 You can not solve unsolvable problems by thinking.  
Do not seek certainty when no certainty is to be found. 
Olle Wadström
You can not control life  or death, but you can choose to go on to behave the way you do or change behaviors
Malou von Sivers
No one sees what you think, but be careful when you choose how to behave
Olle Wadstrom
Sleepless = pondering
Olle Wadstrom
Regret = ruminating of second, third, forth ….. thoughts
Olle Wadstrom
Anticipatory anxiety is prolonged unneccesary self torture
Olle Wadstrom
Chariness that leads to cowardice fosters regret and may start rumination
Olle Wadstrom
Two steps forward 🙂 but the step backward is due to rumination 🙁
Olle Wadstrom
Don't let your anxiety prevent you from taking the first step – start walking
Unknown
Rumination makes you fear your own thoughts
Olle Wadstrom
You can be brave in spite of your anxiety
Olle Wadstrom
Your thoughts are invisible to others but your behavior counts
Olle Wadstrom
Move your ass and your mind will follow
Tom Borkovec
Cowardice fosters anxiety
Olle Wadstrom
Your everyday bravery will change your thoughts about yourself
Olle Wadstrom
Refrain from comforting thoughts when you are unnecessarily anxious
Olle Wadstrom
The decision is a thought – what remains is to act
Olle Wadstrom
Curiosity is the pathway to knowledge
Olle Wadstrom
Allow the worst thought and anything seems better
Olle Wadstrom
Eagerness to achieve tranquility often leads to more anxiety
Olle Wadstrom
Treat yourself with respect and others will follow
Olle Wadstrom
Rumination creates anticipation anxiety
Olle Wadstrom
Do not let your anxiety decide your next step
Olle Wadstrom
Do not let your anxiety impede your future
Olle Wadstrom
Don´t think twice – it´s allright
Bob Dylan, Nobel Prize winner 2016
Anticipatory anxiety makes you suffer Sleepless = pondering
Olle Wadstrom
Decision-anxiety is the child of rumination
Olle Wadstrom
Second thought might make you hesitate
About the new way to handle worry.
Distraction is relieving when worried, but it is no cure of worry. Read the book to learn about the cure.
Eagerness to quit worry intensifies it -learn how to cure it from the book.
If you allow your worst thoughts anything seems better.
Refrain from comforting when afflicted by problems that cannot be solved.
Do not seek answers to questions that have no answers.
Do not try to understand things that are incomprehensible.
If you accept your intrusive thoughts – you eventually kill them.
If you really want to learn how to quit worrying. Read the book.
Hesitation is due to rumination
Olle Wadstrom
Jealousy consists of rumination
Olle Wadström
To worry is to ruminate
Olle Wadstrom
Hypochondriac ruminations  increase your uncertainty about your health
Olle Wadstrom
Olle Wadström