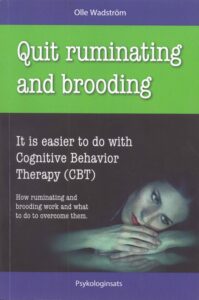 Why is it so hard to make the hurtful thoughts disappear, even though you really want them to? What is the reason that ruminations go on and on despite our efforts to quit? What mechanism makes it persist even though we do "everything" to rid ourselves of it? Most of us have, at one point or another during our lives, wanted to end our ruminations instantly.
In order to clarify what drives ruminations I have to describe the driving force of human behavior, namely "reinforcement".
Reinforcement
We know from behavioral psychology and behavioral analysis that volitionally/voluntary, controllable behaviors are driven by their reinforcers. Reinforcement is something that is experienced as a positive or pleasant consequence of a behavior, which in turns increases the frequency of the behavior. Reinforcement always follows the behavior which is reinforced and influences what will happen in the future.
This should be written accordingly:
S———————- R —————————- C
Starter        Reaction/Behavior           Consequence which is pleasant (=reinforcing)
The pleasant consequence (C) makes the behavior (R) increase. The behavior will be repeated and more often so due to the fact that it led to a positive or pleasant consequence (C).  If a child skips with a jump rope (R) and finds it amusing (C), the child will skip with a jump rope again. The behavior to skip with a jump rope is reinforced, and what happens is called reinforcement.
Premack's principle
A researcher named David  Premack made an observation that came to be of major importance for the understanding of human behavior. He claimed that certain behaviors were self-reinforcing.
The activities that we choose to spend time on are the kind that are reinforcing in and of themselves. This means that these behaviors do not need any other reinforcement in order to be repeated or sustained. They are so pleasant and nice that they are their own reinforcements – we do certain things because they are fun.
Premack then thought that these self-reinforcing behaviors must be able to function as reinforcements for other, less pleasant behaviors, if they follow immediately after these. We recognize this as the grandma law, and we often apply it in our child rearing. We tell our children that they have to do their homework before they can play computer games. To play computer games is a self-reinforcing behavior which leads to homework being done faster while making it more fun to do, since doing homework leads to the fun computer gaming. As such, computer gaming reinforces doing homework.
A behavior that leads to a self-reinforcing behavior is reinforced, and is hence repeated and carried out more often. This is Premack's principle.
starter                         Behavior                              Reinforcement
S ————————-  R ———————————–  C
starter                  cleaning one's room               is allowed to play football
Pelle will clean his room more often because he knows that immediately afterwards, he will be allowed to play football. To play football reinforces the behavior to clean his room, since he enjoys playing football.
In the same way, a pleasant and comforting thought reinforces a preceding, discomforting thought. A liked behavior reinforces a less liked behavior.
S   —————————-    R      ———————————  C
starter              thinks a discomforting thought             thinks a comforting thought
If Pelle thinks painful, anxiety-provoking and discomforting thoughts (R), and immediately afterwards thinks calming/comforting thought (C), the discomforting thought (R) will be reinforced. The behavior of thinking calming comforting thoughts (C) will hence function as reinforcement for the discomforting thoughts (R), according to Premack's principle. In behavioral therapeutic theory, this is the reason that makes it hard to quit ruminating.
You want to quit the painful, anxiety-provoking and worrying thoughts, but you do not wish to quit the comforting, calming and reassuring thoughts. This is part of the explanation to why it is so hard to get rid of discomforting thoughts.
This is an exerpt from the book Quit Ruminating and Brooding by Olle Wadström. Comments and discussions are encouraged.
The book is available in two similar versions. Please choose the green and black version. AuthorHouse (the white version) keep my legally earned royalty to themselves, because of a self-imposed rule.