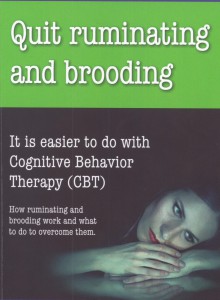 I had a friend who jokingly used to say: "I always buy shoes that are too small because it is so nice to take them off." There is something in this joke. It resembles the motivation for ruminating and worrying. If you want to feel comfortable in that way, the only chance to do so is to put on shoes that are too small over and over. If you want to feel eased and comforted, the only chance is to first make sure that you have something that requires comforting. In order to experience a small part of the security that the comforting thoughts entail, you first need to feel discomfort.
The comforting thoughts reinforce the discomforting thoughts and make them return and multiply. It does not matter that the discomforting thoughts are painful and unpleasant when the reinforcement that follows just increases their number and variety.
Ruminations are driven by the shifting between the unpleasant thoughts and the comforting thoughts. The comforting thoughts reinforce the discomforting thoughts, which in turn increase in number.
Yet another piece of the puzzle needs to be added in order for us to understand how ruminations function, and it is about how chains of thoughts work.
This is an exerpt from the book Quit Ruminating and Brooding by Olle Wadström. Comments and discussions are encouraged.
The book is available in two similar versions. Please choose the green and black version. AuthorHouse (the white version) keep my legally earned royalty to themselves, because of a self-imposed rule.